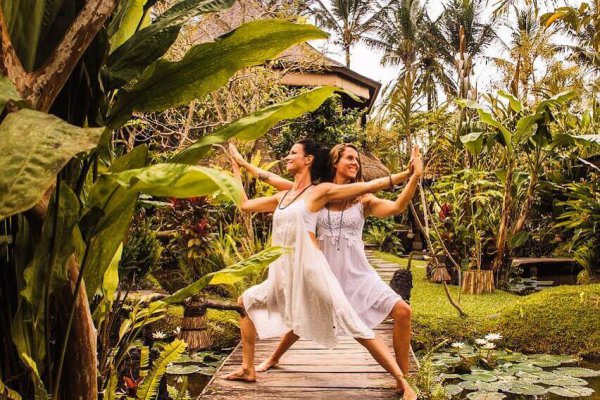 Bali is known as the island on earth where everyone can feel the real magic of a yoga session. Yoga is the practice which takes your mind to a state where you can connect with your soul and the god. This is the reason Bali is known as "The Island of the Gods." We can say it is because there are breathtaking sceneries, with sandy beaches, magnificent mountains, as well as green vegetation which could have only been produced by godly involvement.
Why yoga retreat in Bali so special?
Bali is a hotspot of health as well as wellness which attracts the tourists from all around the world; like yogis and non-yogis. There is a natural and religious tradition on the island. Bali is mainly Hindu, whereas the other part of the country is generally Muslim. This forms an exclusive vibe somewhat different as compared to Indonesia. Hinduism of Bali is also a separate blend of Buddhism and Shivaism with their gods. A lot of them are connected with the lakes and mountains of the island that makes the spiritual festivals unique along with its temples wonderful. It is stated that in Bali there are more than 10,000 temples, pilgrimage and shrines sites in all provinces all through the island. They're not just surprising on the outside, but calm and still on the within.
These are the best regions within Bali for yoga
Bali is known as one of the 34 regions of Indonesia as well as, within Bali, there are some regions. Following are a few regions in Bali which are best for Yoga:
Canggu
In the past, it was a hidden coastal small town, but now Canggu is the eventual hip place in Bali. With a sloppy atmosphere, street art, slick restaurants, Instagram-friendly cafes and hippy vibes where the top yoga centres offer a more comfortable option to the beach resorts into other southern towns – along with a hipster paradise.
Ubud
Ubud is the heart of spiritual Bali. The abundant vegetation, paddy fields, ancient temples, Zen-like atmosphere and rainforest of Ubud makes it a perfect yoga destination. No doubt there are more than 200 yoga retreats available in Ubud, with dozens of great alternatives you can choose for if you want to become a yoga teacher.
Kuta
Not the most isolated option in Bali by in the least means, but living very near to the city centre, it's mainly suitable place to vacation. With a lively beach, shops, lots of cafes, as well as bars, Kuta might be your selection if you only want to have an entertaining time with some yoga sessions spread during your time in Bali.
Seminyak
It is the elegant and high-end region of Bali. Seminyak is similar to the more complicated edition of Canggu. With countless sleek bars, fancy restaurants, spas to get a customary Balinese massage as well as luxurious boutiques, this chic resort village into Southern Bali is ideal for caring for you to a deluxe yoga vacation by the beach.
Jimbaran
Jimbaran is not too far away south of Kuta. It is a centre-ground selection with nice peaceful beaches, not like fancy restaurants, however as fine-looking as a few other places in Bali. Certainly, this province is house to the Uluwatu Temple and one of the land masses six key temples supposed to be spiritual pillars of Bali.
What to do as well as see?
If you're using Instagram, then scenery of Bali will let you have plenty of likes. Let's have a look at top 4 of the most symbolic temples:
Uluwatu:It is built on top of a sharp cliff; the visions from here are very surprising. Like Tanah Lot, an outstanding location for a sunset photograph.
Tanah Lot:It is one of the essential landmarks in Bali. This marine temple is perfect to go make out the sunset.
Ulun Danu Beratan:It could be the very iconic shelter of the island. A necessity for all guests.
Tirta Empul:It is a national intellectual heritage location. Perfect for learning on the history of Balinese.
Conclusion
Now you're all set for yoga to move away of a life span. We can advise you thousands of other great things regarding Bali and it is not going to be enough to tell that how much can enjoy your yoga retreat here.